page 20 of 37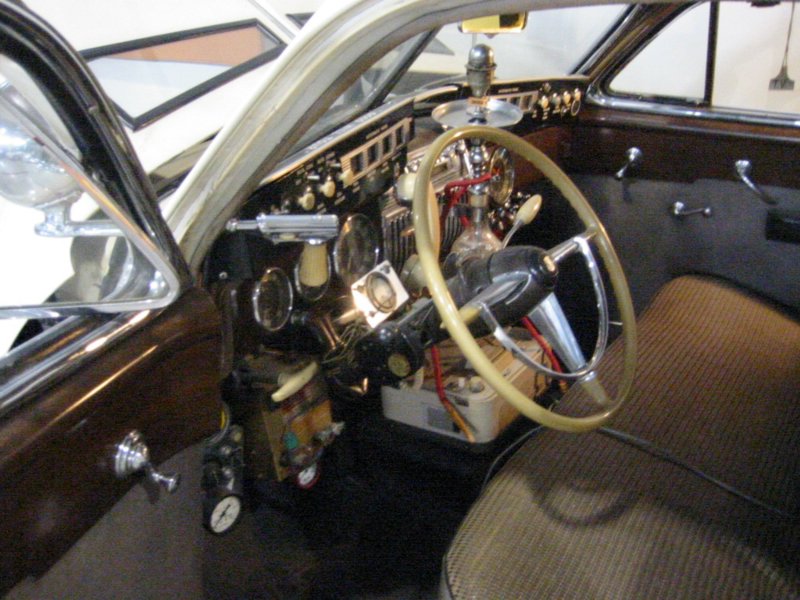 Louie Mattar's Fabulous $75,000 Car. This car holds the world's endurance non-stop record across the US, round trip 6,320 miles September 20th-27th, 1952. Three men drove in 5-hour shifts, refueling at airfields on the run from a moving gas truck at Kansas City, Missouri: Camden, NJ and Omaha, NB. Then a Non-Stop goodwill tour - Anchorage, Alaska to Mexico City, Mexico August 10-18, 1954 - 7,482 miles.
This car refills it's radiator and changes oil on the run, automatically.
Axels are drilled to inflate the tires while turning.
Engine bearings, tires, brakes and hydramatic are automatically cooled.
It has an automatic catwalk for refueling.
Cockpit features dual access coils, condensers, generators and four fuel pumps.
Equipment includes nation-wide telephone, shower and drinking fountain.
Car weighs 8,500 pounds and holds 50 gallons of water.
Trailer holds 230 gallons of gas, 15 gallons of oil and 30 gallons of water.
Hydraulic jacks allow tires to be changed while the car is moving.
It took 7 years to build and cost $75,000. This project was just a hobby. There was no sponsorship. This car has been enjoyed worldwide and recognized in many newspapers, magazines and on TV.