me, 2.0: jose nazario
beauty and the street

stencil alley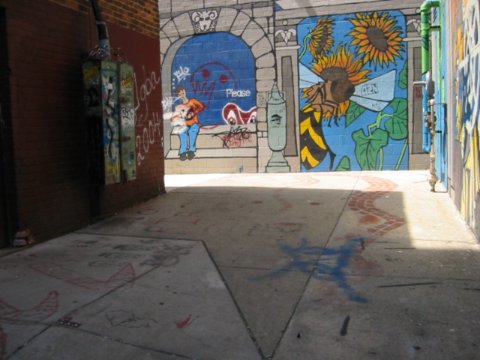 this is a great place to go stencil hunting in ann arbor, a small alley near liberty square. some great new stencils, some i can't find anywhere else in the city, and overall a great breeding ground of new stencils.

more stencil pics from the summer of 2004 coming up soon. i'm waiting until after the end of punk week, at the end of august. then i'll start collecting fall stencils. so, be patient ... i'll post them soon.

one of the things i would love to do is take a few months, tour the world, and hunt stencils for a book. talk to the people who make them, capture them for everyone to see. people like bansky do amazing work. if you feel like bankrolling this and helping put a book out, let me know. i have a couple hundred stencil shots already from san francisco, toronto, and ann arbor (and now minneapolis), but i definitely want more.


| archives
| | |
| --- | --- |
| | Last modified: Tuesday, Aug 24, 2004 @ 04:01pm |
copyright © 2002-2015 jose nazario, all rights reserved.