me, 2.0: jose nazario
beauty and the street

feeding the squirrels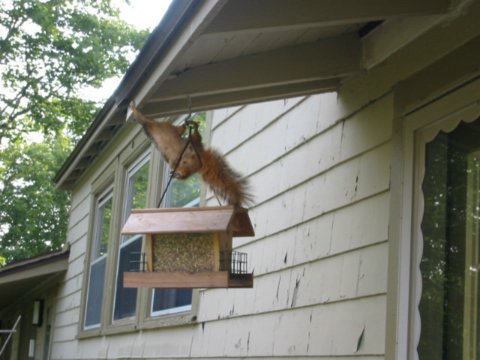 a squirrel jumps from the bird feeder and back onto the roof awning. not surprising, to be honest. we put up several bird feeders in the spring to attract birds. our motives weren't so much to create a nature sanctuary as to provide entertainment for our cats. we've been wildly successful. i didn't expect the birds to be so numerous so constantly or so damned hungry. we go through 20 pounds of bird feed every 10 days or so, a bunch of that on feeding the squirrels. they'll jump down from the awning, maneuver on the bird feeder, gorge themselves, spill bird feed everywhere on the deck, and then be on their way. truly horrible guests.

i hope to move this feeder soon, but i don't know where to, yet. i'd like to keep it away from the squirrels, but keep it accessible to the birds. for our housewarming party we had to move it, and the number of birds that showed up expecting a meal was amusing. some would try and land where they was obviously nothing to land on. a few days later they came back, in force. we'll see finches, morning doves, blue jays, cardinals at times, all kinds of birds. and the cats will sit in the window and sometimes go crazy for them, or get taunted by the squirrels.

a successful project.


| archives
| | |
| --- | --- |
| | Last modified: Thursday, Jul 22, 2004 @ 09:37am |
copyright © 2002-2015 jose nazario, all rights reserved.