me, 2.0: jose nazario
beauty and the street

picpages 1.0 released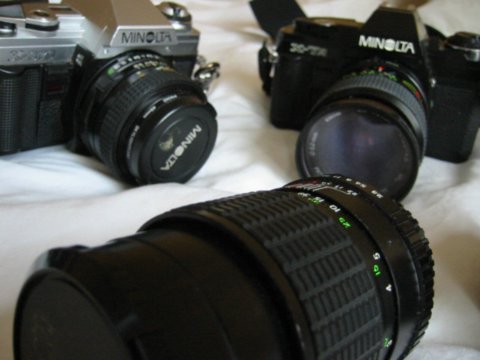 picpages 1.0 has been released. not that it's a huge deal, it's just a simple PHP script and an associated CSS file (thanks eldan!), but it's a milestone: it has all of the basic features i want and need in an online image folder. you can browse and surf pictures easily. 2.0 has some requirements starting to shape up, 1.x will only see bugfixes at this point. the visual changes in picpages 1.0 are minor when compared to 0.92b.

eldan did the CSS work, and hopefully you can tweak the output to your needs. thanks to cameron and natarajan for some help in making the output XHTML 1.0 compliant and valid.

the picture above is of some cameras i used when i was in high school, and cameras i still have. they're 35mm cameras, and often i wish i could put a digital back on them (ie attach a CCD enabled back with a CF slot), since i loved the features of a nearly fully manual 35mm SLR. digital SLR cameras are nice and all, but i'd have to reinvest in lenses and the cost would be huge at that point. my s200 has been doing a decent job, even after being dropped on the ground by me in california in february, but there are many days i wish i had more control over exposure and composition. if you know of how to do this, please contact me. since i started trying to post a picture a day, i'm finding myself on the lookout again for photo opportunities, and i'm starting to get resolved to make my photos better. an SLR would help, but it can't replace the spontaneous shots you can only get with a small point and shoot camera like a digital elph. and nothing makes up for a photographer with skills.


| archives
| | |
| --- | --- |
| | Last modified: Thursday, Aug 12, 2004 @ 08:41am |
copyright © 2002-2015 jose nazario, all rights reserved.