me, 2.0: jose nazario
beauty and the street

parking platitudes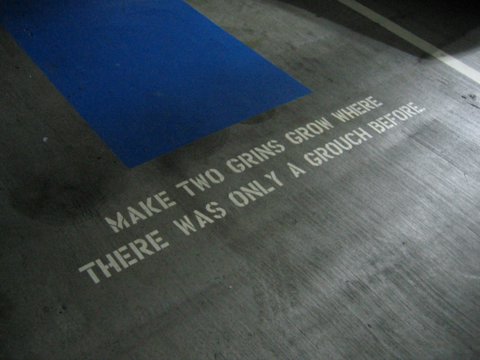 out to dinner the other night with christian, we went to the stinking rose, a fantastic garlic restaraunt. good service, great food, awesome atmosphere. highly recommended. these parking spaces all had a platitude in front of them ...

since i spent a good portion of those days living via my aggregator to gather news and data, i got to think a bit more on RSS and information discovery ... over the week i talked to someone about publishing my article on RSS clustering. i've been innundated with a flood of new material, and my aggregator simply doesn't help me sort it out. while i can flag hits i find interesting, i can bin them for long-term preservation or say "find more like this and bring them to my attention in the future". the idea of RSS clustering is to divine the interesting bits.

other people have taken the del.icio.us approach and "blog" their bookmarks with a tag and a blurb. like tags show related material. even flickr lets you tag photos, and cite-u-like does this in an academic setting. yet none of them really solve my problem, which i'm happy to say is appearantly bothering other people, too. simply storing an idea somewhere doesn't help you discover what was interesting about it when you filed it, and you don't get to use that again. the interface to del.icio.us stinks in that the numbering of pages constantly shifts, etc etc etc. we need better information management ...


| archives
| | |
| --- | --- |
| | Last modified: Sunday, Feb 20, 2005 @ 01:48pm |
copyright © 2002-2015 jose nazario, all rights reserved.