me, 2.0: jose nazario
beauty and the street

NYC day trip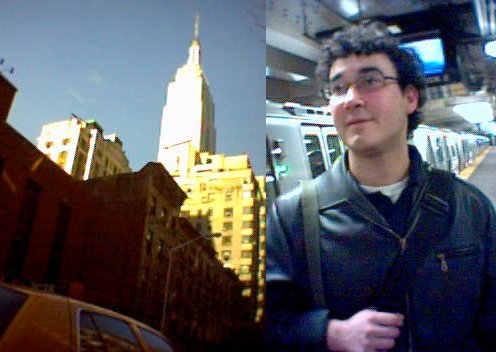 day trip to NYC for work. pictures from my camera phone (better, now that i wiped off a bunch of dust from the lens) are of midtowm (on about 35th street at about 4th ave), and jon (with crazier hair than usual).

my sister loves this city, but i'm not one of its biggest fans. while there's a lot to do, it's just annoyingly hard to get around, dirty, and a menace.

on the plane ride home this evening, i read a fascinating essay in this week's economist, The real digital divide. post-tsunami blogs in january, 2004, often said that if there had been more technology, the death toll would have been less. (you can see some of these posts linked off of smart mobs, jan 2005 archive.) call me stupid, but i fail to see how an RSS feed will make someone's life better when they need clean water, have only basic literacy skills in some cases, and have to go earn a living rather than hang out and blog all day. that's why i really liked the economist article, it really opens your eyes to some of the real concerns facing people across the great digital divide and how superficial and wasteful some proposals really are. kind of reminds me of some of the suggestions to give homeless people laptops that were floated around in america. like that would somehow cure homelessness ...

music wise it's been a bunch of le tigre and dr octagon lately. i barely spent any time at my aggregator today ...


| archives
| | |
| --- | --- |
| | Last modified: Wednesday, Mar 16, 2005 @ 10:04pm |
copyright © 2002-2015 jose nazario, all rights reserved.