me, 2.0: jose nazario
beauty and the street

moblogging, may and june 2005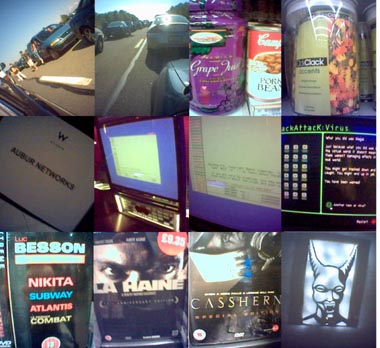 more moblogging ... i would make more use of my camera phone it had a better camera and i had a way to automagically post the pics (ie MMS them to an account i have tied into this blog ...). as it stands, no dice.

row 1:
stopped in traffic in ohio on the turnpike
still stopped, backup was about 4 miles long. took an hour to get through. was a big accident ...
beth noticed that the manashevitz grape juice was parked right next to the pork and beans in the store ...
beth thinking about wedding registry ideas ...
row 2:
in atlanta for some business meetings, a funny spelling of the company name ...
in london, science museum. one of the exhibits was powered by a mac os 9 box ...
it had crashed into macsbug ...
playing 'launch the worm' in an exhibit ...
row 3:
while waiting in the airport for my plane, i found a bunch of movies to see ... im a big fan of luc besson ...
this movie, la haine. looked interesting ...
another interesting looking movie, casshern. i didn't pick any of them up due to DVD region encodings and our current lack of a region-free DVD player.
finally, back home ... a stencil found in an alley.
larger version

| archives
| | |
| --- | --- |
| | Last modified: Sunday, Jun 12, 2005 @ 01:12pm |
copyright © 2002-2015 jose nazario, all rights reserved.