me, 2.0: jose nazario
beauty and the street

love will tear us apart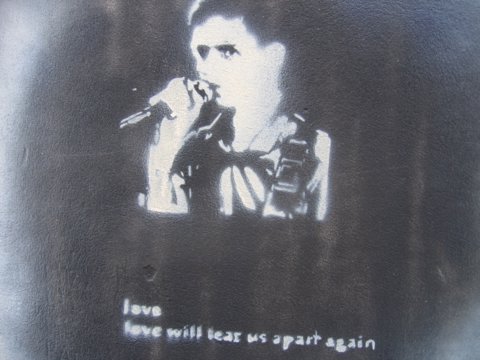 for melinda, who just successfully defended her thesis this week. congrats! she's a big joy division fan, and finding this in london's east end was simply too rich to pass up. more importantly, congrats on your master's thesis being done!

a couple of years ago i started to pay attention to the small icons all around us every day, specifically because i was in a new country with a lot of creative icons (japan). i started to collect these images into a portfolio i called "visual pursuasion". it turns out it's called wayfinding, and there's a nice essay on it by lance wyman. i got interested in it because of the small space with big impact and visual cues, specifically in UI design. same for my love of maps. a very cool find from core77's design blog.

frequent readers of my blog will remember my quest for a book on the history of democracy. i'm not so interested in the evolution of the idea as the evolution of it's implementations, ie in emerging nation states. as america's regime goes hell bound on regime change, trying to bring democracy to the world at large, it's important to ask ourselves why some work and some don't, because a failed state is worse than a rogue but stable state. luckily, i don't have to write the book (phew! i'm so unqualified to write a political science and theory book), but it looks like Setting the People Free The Story of Democracy by John Dunn will fit the bill. looking foreward to its publication.


| archives
| | |
| --- | --- |
| | Last modified: Friday, Jun 24, 2005 @ 09:57am |
copyright © 2002-2015 jose nazario, all rights reserved.