me, 2.0: jose nazario
beauty and the street

london scooter shop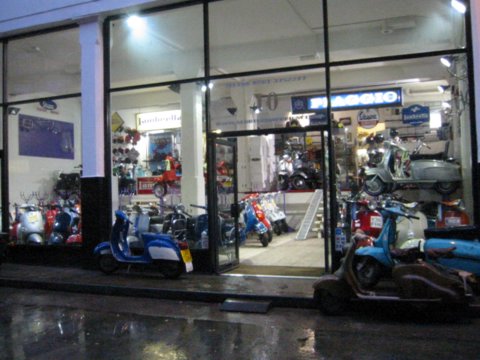 a scooter shop in london's east end. ann arbor had a scooter shop, but i think it folded. now this is what a scooter shop should look like ... lots of various styles of scooters, from cool to suave, for everyone to enjoy.

spending so much time on planes lately, you get to notice simple thing. one of the things that i still need to work on is timing a meal before i get on a plane. since so few serve a real meal anymore, you can go hungry really quickly, and OJ and pretzels don't cut it. however, it wasn't always so. have a look at airline meals dot net and tell me that some of those don't look delicious. some look positively gross, however.

i have been enjoying the hypulp website for a while now, though they don't update their RSS very frequently. so, when Hyperlinks in Print III came across the wire, i had to look. a very interesting style, but i have to wonder how functional it is.

the other week, while driving with beth to her family's house in ohio, we were listening to an older "whaddy'a know?" a guest was talking about how he plans to participate in one of the around the world sail boat races. nothing odd, although he is from wisconsin. sadly, he had some bad luck when disaster struck. he's ok, fortunately, but no word on the boat. this isn't the only solo around the world sailboat race. have a look at the vende globe 2004 website ...

my friend les is writing the book i had actually started (and got 7000 words into) in february, 2004. he's the right man for the job, not too entrenched in the XML politics and a true hacker of the technology. les is always doing something cool. Hacking RSS and Atom is due out later this year. reserve your copy now.

and finally, as a not very avid go player, i should work on my game. with my new powerbook at work (and iMac G5 at home), i can play Goban on OS X. now there is a fine idea ...


| archives
| | |
| --- | --- |
| | Last modified: Thursday, Mar 31, 2005 @ 02:56am |
copyright © 2002-2015 jose nazario, all rights reserved.