me, 2.0: jose nazario
beauty and the street

london pink scooter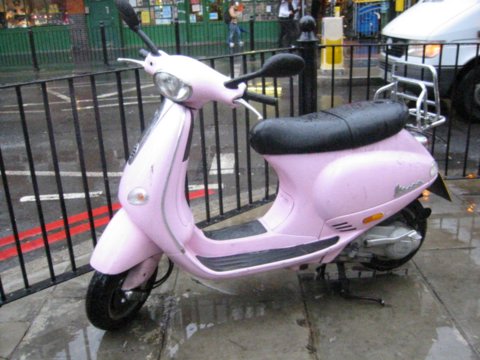 a pink scooter found in the east end of london, near auldgate. crummy weather that day, and being november the skies got dark grey at about 4pm. hopefully other trips to lodon will be more pleasant weather wise.

thinking about RSS readers and scalability issues, i found a new RSS reader i think i may have to play with:

"Blog Bridge is a new kind of Blog reader, designed for the non-technical user to discover, follow and enjoy literally hundreds of feeds without losing their mind." - http://www.blogbridge.com/, via larkware's daily grind.

i'll be talking about RssClustering at notacon on april 10 at 11am in cleveland. show up, ask a good question, and win a book from my stack of reviewed books.

as i continue exploring RssReaders, i've been using RssBandit but i'm finding it has a few quirks that get on my nerves. it doesn't show updated entries (SharpReader would italicize the entry title for me), they remain "read". and it doesn't gracefully handle non-ASCII character sets (something that my RSS reader on OS X does ...), so i'm getting lots of technorati errors lately on my watchlists. in a nutshell ... what am i to do?

i've been looking at a mechanism to determine the "link cosmos" from a group of blogs lately. it's a bit harder than it looks when you have to download the whole HTML page. discriminating between the links on the page from entries and the permanent links in the sidebar can get difficult. if you're not careful, sites like MSDN and Typepad dominate the results. i have an implementation up, located at http://www.infosecdaily.net/links.html and using the ISD blogroll, but it's not going to suit my needs. i need to rethink the method i use to gather and organize links. once i get some time ... this was all written in python using beautiful soup to do the HTML parsing. great software, easy to use interface.


| archives
| | |
| --- | --- |
| | Last modified: Saturday, Mar 26, 2005 @ 09:36am |
copyright © 2002-2015 jose nazario, all rights reserved.