me, 2.0: jose nazario
beauty and the street

food in malaysia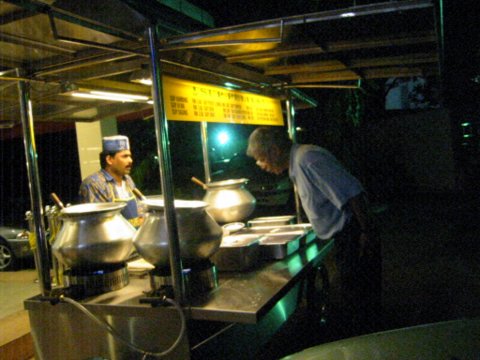 because KL is such a mix of various cultures, the food reflects this diversity in its tastes and styles. some local dishes are very popular, like nasi lemak. i preferred the versions of nasi lemak that weren't in the pouches, only because i could avoid eating anchovies (which i don't have a taste for). we also ate a bunch of curries, which everyone seemed surprised i liked and enjoyed. i think they expected it to be too spicy for me. while spicy, it didn't wind up too spicy. i also enjoyed rotee chanai and rotee prata, again something which stunned some people a bit. delicious food, various styles. sometimes curry style, sometimes more like thai or vietnamese.

this picture was taken one night out at a malaysian food center. lots of varieties, great prices. evidently open all night.

if only for the food, KL would be worth it. i will definitely continue to miss those delicious meals.

another fun place in KL is bangsar baru, a happening nightlife center. the mix of expats and regional style is interesting, although in some ways it feels too disconnected from the KL we found and loved. this is the area where we found stencils in KL. beware the klinic bangsar baru, evidently, the prices will hurt you.




| archives
| | |
| --- | --- |
| | Last modified: Monday, Oct 18, 2004 @ 07:21am |
copyright © 2002-2015 jose nazario, all rights reserved.