me, 2.0: jose nazario
beauty and the street

keither haring piece in SFO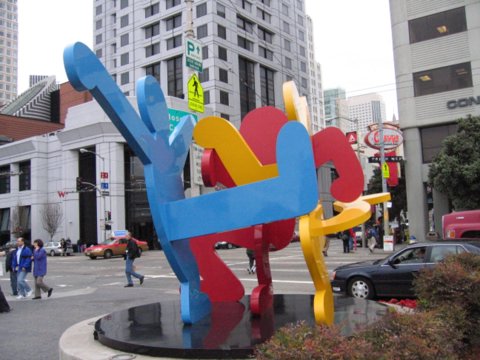 a sculpture by the late artist keith haring. he always had a very unique style, and one that always looked playful even when he was making a string polotical statement. primary colors, simple curves and shapes, very simple drawings. almost childlike but with a hidden sophistication.

he also did some work specifically for kids, and it's been redone as a website. very fun stuff.

sadly keith died in 1990 of AIDS, and was sorely missed. luckily his art lives on. whenever i see this sculpture (just outside of the moscone center) i'm reminded of how much i have enjoyed his art.


| archives
| | |
| --- | --- |
| | Last modified: Monday, Feb 21, 2005 @ 11:05am |
copyright © 2002-2015 jose nazario, all rights reserved.