me, 2.0: jose nazario
beauty and the street

more moblogging ...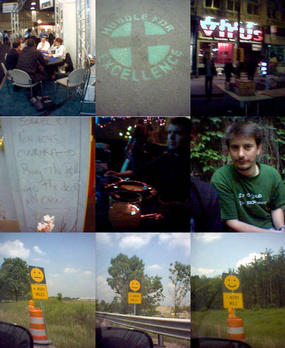 more moblogging with my camera phone. despite the crummy quality, hopefully some of the pics look interesting. and now, on with the show:
row 1
infosecurity canada, CA had a texas holdem game going on at their booth. arbor will have a poker game this year at blackhat ... keep your eyes peeled.
seen in new york at LGA on the tarmac ...
montreal, the virus bar. didn't go in ...
row 2
directions at the spirit lounge 'ring the bell and the door will open.'
dinner, spirit lounge (bad lighting). christian, myself and cory went out for a vegan challenge dinner: clean your plate or don't come back.
cedric blancher (from .fr), presenting on some of his wifi hcking tools at recon.
row 3
US 23 northbound in MI, construction. went from unhappy to kind of ok (4 miles ...)
to a slight smile (3 miles)
to a full smile (1 mile of construction to go)
larger version, which is somewhat clearer ...


| archives
| | |
| --- | --- |
| | Last modified: Monday, Jun 27, 2005 @ 02:52pm |
copyright © 2002-2015 jose nazario, all rights reserved.