me, 2.0: jose nazario
beauty and the street

granola crunch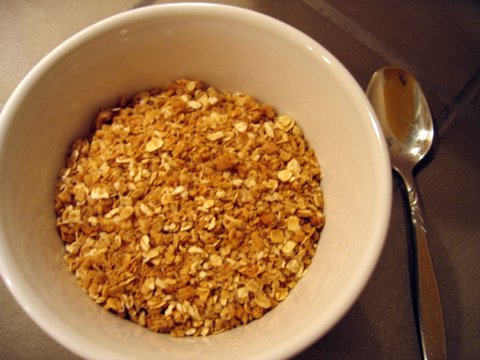 a bowl of some homemade granola i whipped up earlier this week. i've always liked a good granola, and in the wintertime it's one of my favorite breakfasts. the recipe is simple, and this removes the need to spend a fortune on granola, gourmet or otherwise:

basic granola
3 tbsp butter, melted
1/3 cup brown sugar
1/4 cup honey
2 cups quick cook rolled oats (ie Quaker quick cook oatmeal)
1/4 cup wheat germ or whole wheat flour
prehat an oven to 300°F. mix the butter, the honey and the brown sugar well, then mix it with the rolled oats and wheat germ. form some clumps or one large clump, put it in a baking pan and bake in the oven for 20 minutes or so, turning periodically. it will brown slightly. let cool, store in an airtight container for up to a week or two.

great on yogurt or as a simple cereal. add in fruit and nuts if you want (the fruit after you've cooked it, make sure it's dried fruit).


| archives
| | |
| --- | --- |
| | Last modified: Thursday, Dec 16, 2004 @ 02:58pm |
copyright © 2002-2015 jose nazario, all rights reserved.