me, 2.0: jose nazario
beauty and the street

full weekend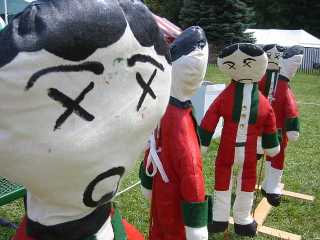 beth and i have a few days to chill out, we're not hosting anyone in town and we're not going anywhere, so what do we do? we fill up our days with things to do!

on friday, on my way home from work, downtown ann arbor's main street festival was having it's annual rolling sculpture car show. lots of small and big, foreign and domestic cars afoot. one of my coworkers had a car there but i didn't find it before i had to go, and all i had with me was my camera phone.

on saturday, we woke up early and ran some errands. then we went to the saline celtic fest. we got to see some little kids doing bunny fencing, a demonstration of sheep dog skills (turns out "that'll do" is a real way of saying "come to my side, we're all done for now"), and millie, the cousin of the loch ness monster. we also got to see the stone put, kabertoss, and hammer throwing. all neat events, all beyond my skills and strength. once we got home, beth got a new bike (one that is way more comfortable for her) and we went for a short ride.

today, we were all psyched up to go to the international bbq championships in dundee, but were disappointed in the size and quality. we had just eaten, so we didn't eat anything, but plenty sure smelled good. there was a small "petting zoo" and even camel rides, but we beat a hurried path home. saw anchorman, was somewhat disappointed. went for another, longer ride (along the huron river).

not bad for "taking it easy".


| archives
| | |
| --- | --- |
| | Last modified: Sunday, Jul 11, 2004 @ 09:47pm |
copyright © 2002-2015 jose nazario, all rights reserved.