me, 2.0: jose nazario
beauty and the street

detroit highway view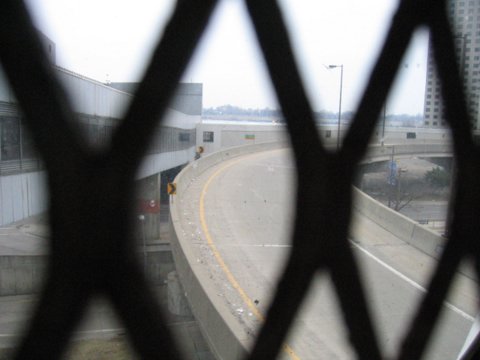 continuing on a theme ... a snapshot picture taken from one of the windows from the tunnel in yesterday's shot, overlooking a highway in downtown detroit. and, more rants ... kind of like yesterday, and kind of like a few recent posts. while i know i'm not an authority on any of this, i'm basically sharing links i find interesting (either via my RSS aggregator or via search engine queries i perform to get some information on something) along with some thoughts. hopefully you find it interesting ... if not, maybe just stay for the pictures.

i've been thinking about my travels lately. and despite the fact that sometimes it's a bit tedious and tiring (up at 4am, home at 9pm), i really do like seeing the world. i think my love of travel and the wider world came from my parents' national geographic subscription. things like this south pacific dispatch give me pause and make me wish i were traveling to some of those warmer climates more instead of colder places. i am still itching for sunny days and riding my bike to work.

i've known a bunch of people in my experiences with EECS departments who have been interested in wearable computers. i agree with some of their base feelings, "To date, personal computers have not lived up to their name. Most machines sit on the desk and interact with their owners for only a small fraction of the day." the problem with this (for me) is that they have one vision of computing (for example the MIThril), and aren't open to ideas about others. instead, i've chosen to think of the goals of what they're thinking of, "living up to the promise of computing", by thinking about things like pervasive computing. part of pervasive computing is wearables, but it's so much more. let's face it, if i told you that i could sell you a mobile, location aware, network computing device right now, what would you say? how many of you would think about your cell phone? i'm excited about the cell phone as a computing platform, not because i really believe it will happen, but because it's already deployed everywhere. to that end, start thinking about what you can do with your mobile, networked computer in your pocket and i think you'll find a few new ideas. need some help? check out a blog like wireless wonders and see if you don't get a few ideas. thanks to otaku for some good lunchtime discussion. he's doing much more with his phone than i've thought about doing with mine, i'm not programming mine, and he's raised some good points over lunch.


| archives
| | |
| --- | --- |
| | Last modified: Wednesday, Mar 23, 2005 @ 07:03am |
copyright © 2002-2015 jose nazario, all rights reserved.