me, 2.0: jose nazario
beauty and the street

detroit dog show (1)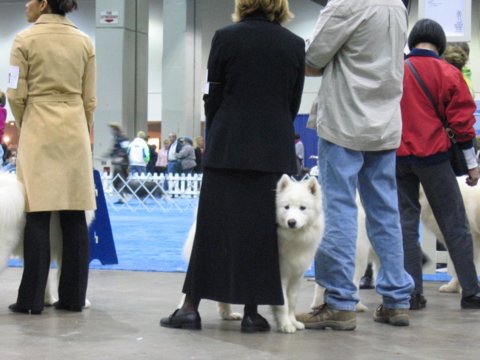 a dog, its handler, and owner (along with others dogs and handlers) prepare to go into the ring at the 2005 Detroit Kennel Club Dog Show. beth and i went, loving dogs and knowing we'd have a good time, and the show did not disappoint. what's great about dog shows and dog owners is that they're so much more down to earth than cat breeders and owners (on average) that we've met at shows. "want to pet my dog? great! he loves attention!" very fun time, we'll have to go to more of these. i think we went in expecting something a lot more like the Westminster kennel club dog show with a big arena and breeds being shown. nope, while they had a few arenas they had an open floor for prep, vendors (of course), demos and the like. the dog agility course was also pretty cool. but really, lots of beautiful dogs and great owners. i like this shot because it suggests the dog is interested in different things than the people, like maybe playing ...

i've put up a picture gallery of the day's fun ...

now that i really use a mac day to day, i guess i should keep up to date on events. RSS is a great way to do that, and the os x community has adopted RSS very well. now to pick a reader (probably NetNewsWire) and go! the Apple RSS site has all of their official feeds. now to keep track of more utilities, too. one thing i haven't liked about the apple OS X hot downloads site is a misrepresentation of some of the licensing. "free download" shouldn't be used to indicate "well, you can download the package, but you have to get a license key to use it, and its only a trial version that's crippled for free." nope, not at all useful.

the o'reilly Mac dev center has an article on productivity on os x, something i will have to dig through. while the piece spends too much time explaining the philosophy of "getting things done" (GTD) and not enough time doing, it has a few useful links.

like i said, more os x links coming as i streamline my workflow on os x. i should do the same on windows, too, for my home laptop.


| archives
| | |
| --- | --- |
| | Last modified: Sunday, Mar 20, 2005 @ 12:53pm |
copyright © 2002-2015 jose nazario, all rights reserved.