me, 2.0: jose nazario
beauty and the street

cilantro chicken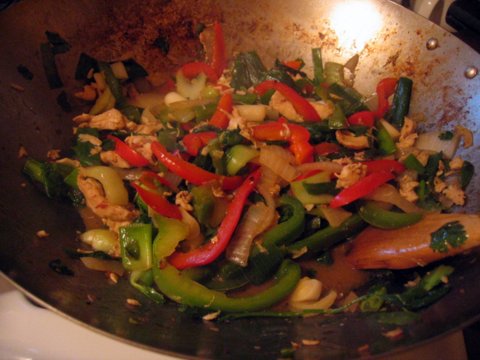 the basic recipe is as follows:
2 chicken breasts, sliced into thin pieces (see tip, below)
3 tbsp soy sauce
1 tbsp cornstarch
coat the chicken in the cornstarch and soy sauce for a few minutes.
2 tbsp peanut oil
a jalapeno pepper, chopped
4 cloves garlic, smashed and chopped
1 tbsp sesame oil
1/4 cup dry sherry
heat the oil in your wok, add the garlic and jalapeno, sesame oil, and the chicken. cook the chicken until it's cooked throgh, stirring often to ensure even cooking. add 1/4 cup sherry to the pan.
1 red bell pepper, matchstick slices
1 green bell pepper, matchstick slices
1/2 large white onion, chopped
add the vegetables to the wok and continue to cook until the onion and peppers begin to soften.
2 bunches of green onions, chopped
1 baby bok choy, chopped
1 fistful of fresh cilantro (dried wont do)
add the green onions and the baby bok choy, cook until they start to soften. toss in the cilantro, cook for another few minutes.
1/3 cup chicken broth
2 tbsp oyster sauce
2 tbsp soy sauce
1 tbsp corn starch
mix the above well (make sure it's cold to dissolve the corn starch) and add it to the wok. heat until it begins to boil.

you're done. serve it with some steamed white rice ...

TIP

ok, so you want your chicken, pork, and beef in stiry fries to be very, very tender and almost pro-like? don't cube it based on the outsdie edge of the piece of meat. instead, slice it diagonally across the meat, into variously sized pieces. not paper thin, but somewhat thin. this will cooke faster, and wind up more tender than you get with just cubing a piece of meat. the problem appears to be the outside of the meat which has had a chance to harden and stiffen. this doesn't go well for having a tender piece of chicken, beef, or pork. instead, make the interior of the meat the major surface.


| archives
| | |
| --- | --- |
| | Last modified: Monday, Oct 10, 2005 @ 11:15am |
copyright © 2002-2015 jose nazario, all rights reserved.