me, 2.0: jose nazario
beauty and the street

a third butterfly from the meijer gardens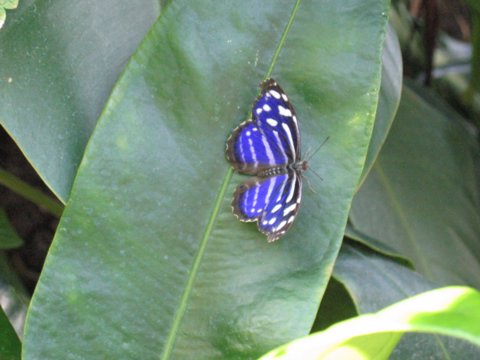 another butterfly from the exhibit at the meijer gardens in grand rapids, mi. i like this one because of the contrast between the butterflu and the leaf. also, the butterfly appeared more purple in person. this picture doesn't do it justice.

one of the challenges of being a photographer is to capture the image you have in your mind, be it with color, light, or composition. make no mistake about it, it's tough, and it's the kind of thing i never tire of (but am sometimes frustrated by). a joy of digital photography is being able to take hundreds of shots on the cheap.

a friend pointed out deep notes, a "hierarchical notepad". for os x, it may be useful .. we'll see. right now i'm stashing notes in the usual places (files edited in vi, iCal) and a few other places (ie the wiki). he mentioned this to me i think because i'm still looking for an application that can do cornell style notes on os x. it may fall to me to learn how to program in cocoa to build this app. so far i'm liking these ease of X code and the joy of the oreilly website for developer notes.


| archives
| | |
| --- | --- |
| | Last modified: Monday, Apr 04, 2005 @ 06:58pm |
copyright © 2002-2015 jose nazario, all rights reserved.