me, 2.0: jose nazario
beauty and the street

book reviews in miniature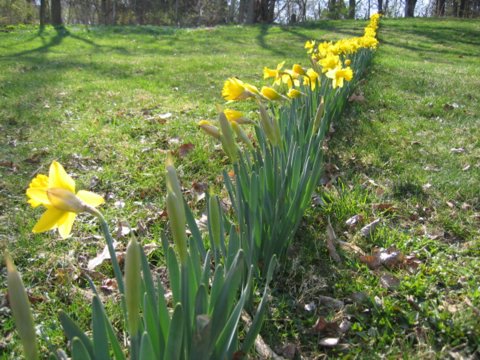 daffodils in a line at nichols arboretum here in ann arbor. sadly, right now they're covered in snow.

i spent the winter riding the bus, so i had plenty of time to read a lot of books these past few months. that and i rode on a lot of planes. let me tell you, i read some stinkers and some gems, and a few so-so books. here are my reviews in miniature.

black hawk down by mark bowden. this is the book that inspired the movie. well told, gripping, informative, well researched, well told. if anything it made me want to get involved in making the battlefield orientation of our troops better, i hadn't given the "fog of war" much thought before.

the bourne identity by robert ludlum. i'm a big fan of the movie (and judging frm the quantities of people who were reading this book and series on the plane when i was, too, many are), yet i was so fully disappointed. not because the movie was great and the book had the chance to fall flat, but because ludlum simply resorts to convluted, lousy tricks to create a complex, woven story. not a good book.

the bourne supremacy, also by robert ludlum. even worse than the original. i read it while flying to and from malaysia, which, while a nice setting for the book, doens't make you forget about the even worse story telling. i never read the final book in the series.

cleopatra's nose, by daniel j. boorstin. i became a fan of boorstin some years ago with "the discoverers", and this short collection of gems is fantastic. students of history will like this one.

the creators, also by boorstin. again, one of the books that sits alongside "the discoverers", but sadly didn't captivate me as much. a loosely collected work that is short biographies of major forces in the arts, but it lacks anything that tis them together thoroughly.

reports from practically nowhere by john sack. probably the best thing for me deep in the middle of winter, i read this to and from puerto rico. a great, fun and inspiring travel book.

the evolution of useful things by henry petroski. while i am reluctantly an engineer (i was trained as a scientist), i do enjoy a good story about engineering. like boorstin, petroski's got a knack for telling good, interesting and "hidden" history stories well.

the quiet american by graham greene. i'm not normally a fan of fiction, especially more recent fuction, but this was an exception. i'm glad i made exception, too. a well told story about american involvement in vietnam which tells a larger story about american activities around the world. as relevant as ever.

the seduction of place by joseph rykwert. i went looking for the story of the world city (note not buildings, the city and the forces who created them), and i found it. a gem, and great for someone who gets to see some of those cities from time to time.

the chess artist by j. c. hallman. i like chess, and this helped me to think about getting back into my game. but the story itself was rather ok, but it could have been told better. it feels uninspired.

confessions of a master jewel thief by bill mason. you know that stereotype of the rich, seductive and debonair cat burgular? it's bill mason. great story, with a somewhat flat ending. i find that it's common in stories like this (true stories of interesting lives), the ending kind of falls flat.

mi6 by stephen dorril. a book that is simply tedious and uninspiring. a collection of facts but no analysis, none whatsoever. why did filby get by with doing his damage for so long? while it sheds some light on things, the nonlinear layout and the lack of analysis, together with the flood of names and dates, makes it feel like a brain dump and not a history of the organization.

company of strangers by paul seabright. i have been reading some globalization and global economic analysis, and seabright's work is a decent introduction ot the topic, but he doesn't go beyond "look! our economies are interconnected!" i wanted more and didn't get it. not bad, but get it in paperback instead. turns out a lot of people are feeling similarily.


| archives
| | |
| --- | --- |
| | Last modified: Sunday, Apr 24, 2005 @ 12:38pm |
copyright © 2002-2015 jose nazario, all rights reserved.