me, 2.0: jose nazario
beauty and the street

archeology cat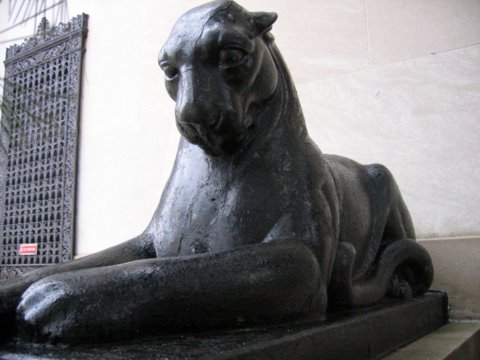 a statue outside of the umich archeology museum.

experimenting with new RSS readers. i've been using sharp reader for a while now, but it's missing some functionality i want, such as full text search. it has a number of things i like, though, like flagging posts and adjustable timings to look at feeds. i set a bunch on "look at once a day", as opposed to every hour. however, it's been crashing for the past month or so quite frequently. aside from that, a four star application.

so, recently i downloaded and tried using sauce reader, another .Net framework application. the usability is pretty good. it defaults to a four hour check, which is a gentle nod to the pounding that popular RSS sites get (still better than a full blown browser load of a page, but it could be better using conditional GET for RSS). the default layout looks a lot like outlook, which kind of sucks, but works for the most part. i tried to use this one for a while, to see how it works. overall, for the most part it's better than Sharp Reader for my needs. i found it was easier to navigate output, i liked the themable display, and a few features really worked for me (persistent storage, for example). one big annoyance, though, is that it seems to consume way more CPU than sharp reader did. i'm not sure why, but this sucks, so much so that i actually stopped using it after about 8 hours of use. the periodic grinding halt my laptop would come to simply didn't work that well for me.

one of the nice things about it being a .Net application is that the integrated web browser is almost a fully functional IE. no crippled browser hiding in there. hence, i'll probably be looking for other RSS readers that are .Net applications but with better performance.

other ones i was thinking about, and may even try out, include RSSconnect, Awasu, feed reader, RSS reader, and blog express. none were terribly compelling for my needs (about a hundred feeds, need to store the info later on, persistently, without an external database). suggestions welcome, but note, i'm very serious about my needs. this isn't a chance for you to advertise yet another basic application, i need something that thinks differently. importing a large OPML, geting it synchronized with the main app i use (ie find the stuff i really haven't read), etc, it's a daunting task. i wont do this lightly.

hilarity: the folowup survey to the RSA conference called it a "wicki". it's Wiki. still, glad to see them thinking about the wiki.


| archives
| | |
| --- | --- |
| | Last modified: Thursday, Feb 24, 2005 @ 10:24am |
copyright © 2002-2015 jose nazario, all rights reserved.