me, 2.0: jose nazario
beauty and the street

ann arbor kerry meetup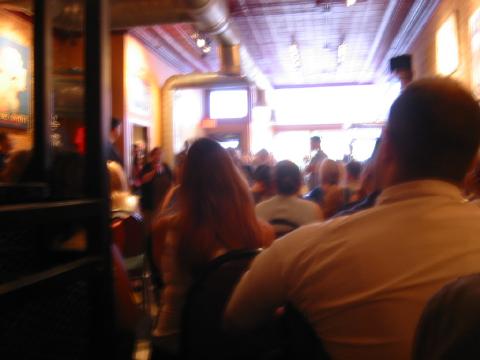 finally downtown and available on a thursday night towards the end of a month, we attended a kerry meetup here in ann arbor. ok, linh organized the outing, and i thank her. i have to admit i felt out of place. first, i'm not enthusiastic about kerry, although i do expect he'd do a much better job of being the US president than the other guy on a number of the points that matter to me (and all of us). i just don't think he has all of the right positions on some of the newer, emerging issues (nor does the other guy, for that matter). secondly, ann arbor is an old liberal city, with many of the hippies quickly becoming dinosaurs. much of the younger element of the city has gone much like the rest of america (conservative, defending the family and all that ...), so some of the night was annoying dealing with old hippies. never been a big fan of hippies, i just find they don't get things done in any reasonable timeframe. never mind the fact that they can't articulate a platform to sell to the (approximately) 10% gap between bush's approval ratings and likely voter polling numbers.

in short, this isn't the kind of thing i want to get involved in. i want to make the world a better place by getting involved in policy and shaping those sorts of things, i just don't see it being done through this sort of thing.


| archives
| | |
| --- | --- |
| | Last modified: Friday, Aug 27, 2004 @ 01:05pm |
copyright © 2002-2015 jose nazario, all rights reserved.